Clos La Chance Monterey County Estate Chardonnay 2020
$16.99
Description
Clos La Chance Monterey County Estate Chardonnay 2020
91pts – Wine Enthusiast
DESCRIPTION
Clos LaChance is a 30 year old family owned and operated winery and one of the first in California to be certified sustainable. We boast 150 acres of estate vineyards and produce 16 grape varietals on the property. We are most known for our Bordeaux and Rhone varietals. Clos LaChance's beautiful old world style winery offers tours/tastings, meeting opportunities, entertainment and hospitality. It is nestled between the Rosewood CordeValle Resort and at the base of the Lion's Ridge hills adjacent to the Santa Cruz mountain range just 10 miles inland from the ocean. The Santa Clara Valley AVA formally known as Hayes Valley where the vineyards and winery resides is a historical grape growing area comprising of 1,400 acres of rolling golden hillsides dotted with hundred-year-old oak trees. The portfolio includes 4 brands (Clos LaChance Estate, Hayes Valley, 22 Pirates and Colibri) with premium packaging and competitive pricing. We produce quality and award winning 90+ point wines vintage after vintage.
SUSTAINABLE VINEYARD
Being a good steward of land and resources is a key practice in Clos LaChance's wine making and wine growing philosophy. Owners Bill and Brenda Murphy are especially vested in the sustainability of the vineyard and winery—creating a legacy for their children, grandchildren and generations to come.
Sustainability is an ever-evolving practice. A member of the Central Coast Vineyard Team, Clos LaChance has also actively participated in the Wine Institute Sustainability Self-Assessment Program, identifying strengths and opportunities for improvement. We are proud of current achievements to create an environmentally, economically and socially sound business, and will continue working towards more sustainable practices.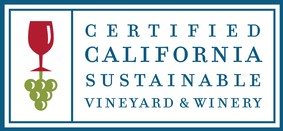 In early 2009, Clos LaChance's 150-acre Estate vineyard was one of seventeen California vineyards to be Sustainably Certified via the California Sustainable Winegrowing Alliance. The production facility was certified shortly thereafter.
2020 Monterey Chardonnay
The Clos LaChance Monterey County Chardonnay is sourced from premium vineyards spread throughout the iconic growing region. Known primarily for its Pinot Noir and Chardonnay production, Monterey County is the ideal growing region for ultra-premium wine grapes. The appellation is vast and spreads from the edges of the Pacific Ocean to the warmth of the Salinas and Santa Clara Valleys. The grapes sourced for this wine come from a mix of coastal climates to warm valley floors, giving it the complexity that shows through in the final product. Cool coastal grapes provide bright acidity and mineral notes, coupled with the extravagant citrus and melon notes from the warm valley fruit. The Clos LaChance Chardonnay is a true representation of one of the premier Chardonnay growing regions in the world.
Winemaking Notes
Aromas of light oak, citrus and minerals. Flavors of lime, lemon custard and spice. Light body and acid. Pair with ceviche, soft cheese and lemon pepper salmon.
Tasting Notes
Color: Pale Straw
Aroma: Light oak, Honeysuckle, Lemon Curd, Mineral
Flavor: Lime, lemon zest, Spice
Structure: Light body, light acid
Pairing: Ceviche, soft cheeses, lemon pepper salmon
Technical Information
Various Vineyards: Arroyo Seco
Blend: 100% Chardonnay
Aged: 16 months on 30% New French Oak and 70% Neutral French Oak
Average Brix at Harvest: 23.5
pH: 3.44
TA: 0.73
Alcohol %: 13.5%
Sugar: 0.09 g/L